BREAKING NEWS
[2006] [2005] [2004] [2003]

10/28/12 The winds of change are blowing through Polskiland... MSO and ELK make some life altering decisions, JGO builds a new pantry, and our favorite haunt ye olde AllAsia will soon shutter its doors. But not before we rock out, as Daft punk would say, one. more. time... Friday Nov. 9th come help us pay tribute to AllAsia, a great local bar that gave so many bands their chance to shine. When you reach Rock heaven, say hi to CBGB's and House of Blues for us...

7/31/12 Thanks for all who made it out for the grad bash, anybody get any pics? We'll be taking a break this summer catching up on some projects, look out for a sneak attack this fall.

5/24/12 Polski will be returning to the stage on Friday June 8th at 9pm at, you guessed it, old reliable AllAsia on Mass Ave. See you there!

5/18/12 Can you believe it? Polski FIAT is about to reach the decade milestone. What are the key metrics to be thinking about for our ten year review? To date we've played 72 shows, and had many, many adventures. In our first 5 years, we toured the east coast, recorded 3 albums, and won some battle of the bands trophies. In our second 5 years we recorded but did not finish album number 4. Clearly this is because it is a magnum opus, and potentially the greatest album of all time, and not because we ran out of cowbells. We did squeeze in a couple international shows in South Africa, and MSO managed to squeeze a PhD out of his sphincter. Now venturing back into the light of day, Polski is gearing up and wheeling the 4rth album out to the runway again for its historic maiden voyage. Plan to see us hitting the clubs again, grinding out that old distinctive Polski sound, with some new aromas thrown in the mix. Rumor has it, the seventh word may finally be revealed... wait, does this count as blogging? this better not count as blogging...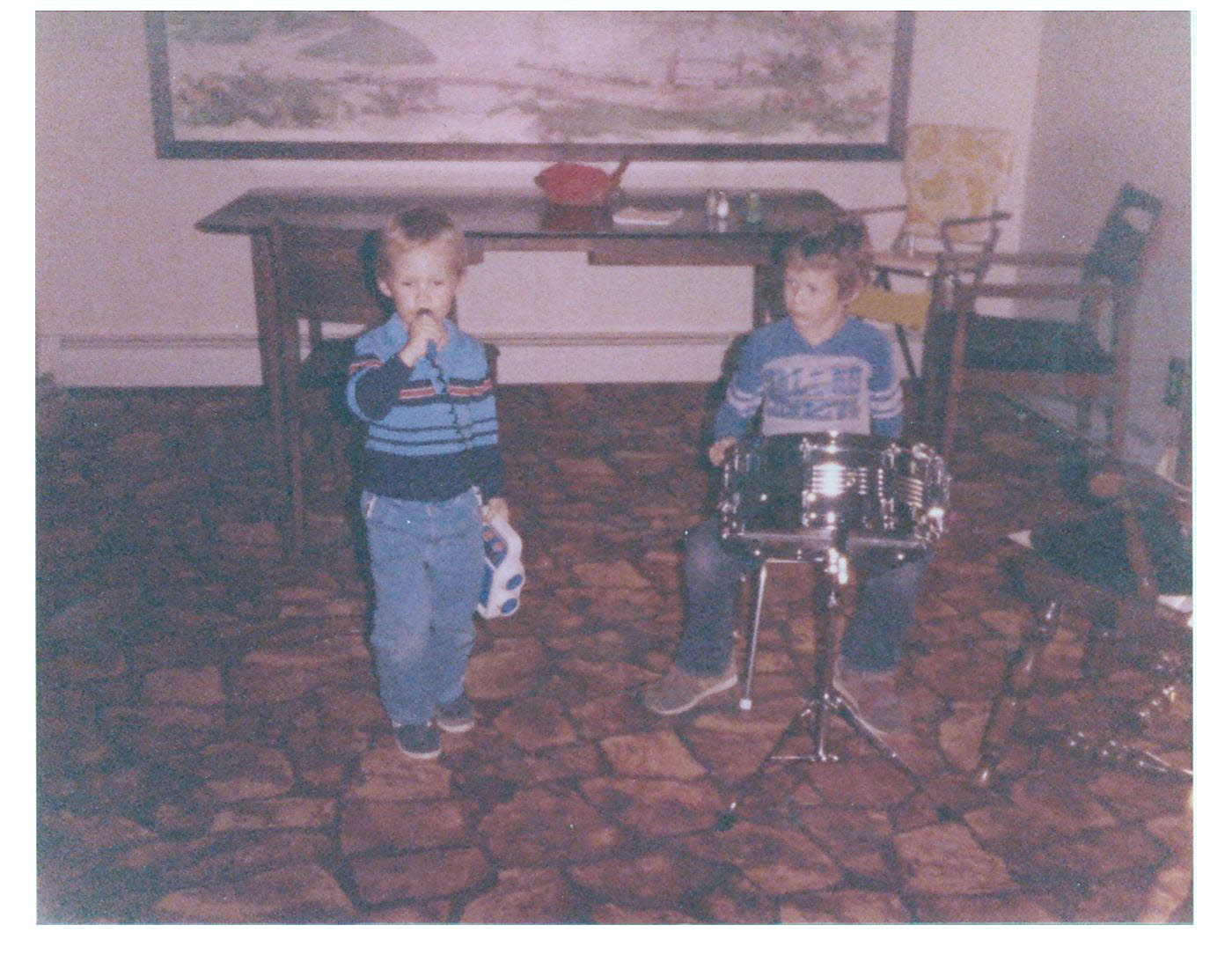 6/29/11 Found an old photo in the archives, from Polski's 1985 debut. I think this was from when we toured with Dire Straits, or maybe a-ha. So aaanyway we're set to take the stage this Friday at all asia 8pm, an early show for once leaving plenty of time to pah-tay afterwards... Hope to see the gang there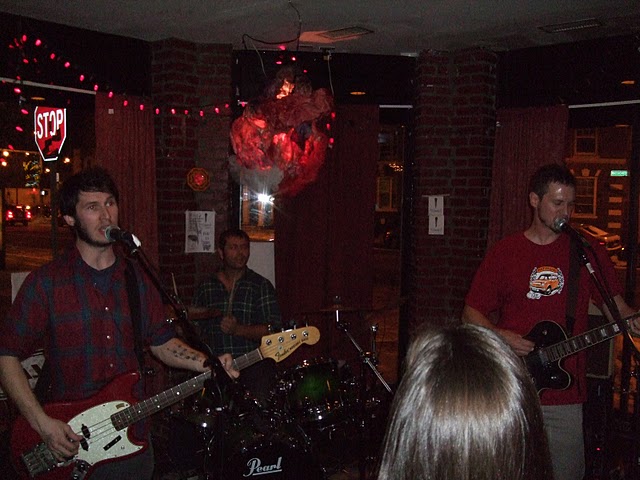 2/21/11 Big thanks to everybody who came out and rocked the AllAsia on Saturday. We had the place packed to capacity and it was good times. Special shout out to Joey and his entourage for rolling in deep, glad to have you back this side buddy. Or is it brau now? Anyway according to the wink wink we won't be missing you too much longer. So now that the whole Polski crew is back in the USA we should probably get cracking on that 4rth album eh? Especially since songs for the 5th are already rolling off the line ...

8/19/10 We've confirmed a quick show at All Asia on 9/10, since we will all be on the same continent for a few days. It will be our only show for a few more months, likely the rest of the year. Hope to see all you fine people there!

6/28/10 So we muscled our way into another gig at Die Mystic Boer in Bloemfontein Saturday night, thanks to Mike & friends from Lesotho for making it out to the gig. Tshepo and Kevin saved the day after our original arrangements for borrowing equipment shit the bed. And thanks to the random England fans and Afrikaners who plied us with shooters during the set. Good fun, all around, bummer that the USA lost but so it goes. The Polski Boys are set to leave South Africa on Thursday night, so this wraps up our brief little Intercontinental Tour. Ayoba!

6/20/10 Sneaky, Sneaky Polski. Did we mention we are touring South Africa and watching some World Cup games? Oops... We went ahead and played our first international gig last night in Johannesburg at Back2Basix - like thieves in the night...sorry there wasnt much of a heads up but things kind of fell into place at the last moment. Special thanks to Sweet Pain for lending equipment and rehearsal space (you guys rock out), and Rambling Bones for use of drums and guitar kit at the gig. You guys made it happen. And thanks to Celeste at Back2Basix for co-running an awesome venue, we hope to be back someday!

Whats next? We are angling for Mystic Boer next Saturday in Bloem, we just need the USA to come in second in group C. Cmon guys you can DO IT!!!!

4/29/10 Rumor has it, Polski may have some sneaky surprises for our southern hemisphere friends in 2010. Stay tuned

3/14/10 Whoa Nelly, y'all! its been too long since a polski update. Rest assured, we've been busy. Unfortunately, its with all things non-polski. We haven't given up, we've just been living life and adding fuel to the creative process. New material is sure to come.
!!!
what's that, new material! but you haven't even finished album #4!
I know, I know. Things just work like that sometimes. There will be an album, just not in the time frame we were aiming for. Polski will be on hiatus for almost a year, after which we will have songs coming out our blow valves. Can't wait that long? Then come check us out at All Asia this friday (3/19/10) for the last show before the break. Rock on...

11/12/09 Ok, its been awhile since we've been out in public. Rest assured, the album is being recorded and is sounding good, we're just taking the time to do it right. We don't have a hard release date, but we'll start posting some raw cuts in the coming weeks. In the mean time, we're scheduled at TT's on Dec. 16th, it will be a good break from tracking for us and a chance to catch up with you guys.

8/2/09 Polski is knee deep in some thick recording, album #4 (yet to be titled) is coming. Be on the lookout for some raw tracks, progress reports and a release date. We'll be playing some shows in the fall, so you'll get your polski kick, worry not. Enjoy the summer!

6/2/09 Hey everybody, got some good news. Polski has two (2) shows in June! We're playing the 8th at Middle East upstairs (Monday) and the 27th at Cantab Lounge (Saturday). After this we will take a little break from shows while we start recording the new album. So, come on out and party with the polski boys! After all, its summer, and you've earned it.

4/22/09 Ok, its been awhile since the last polski update. Things are getting back to normalcy, we hope to play at least a show a month. Plus the new album preproduction is progressing thanks to a new practice spot in the city. So come out next friday for our first show of the year and drink some brews like the old days.

1/21/09 Welcome to the oh nine everybody! Its been too long since our last polski update, lots of things have been happening: the holidays, a new year, a new president, but unfortunately, a new injury. Yes, we've got the broken arm this time. Don't fret, cast will be off soon, we'll get the chops back and then we'll get serious about this album! Lets hope for good things. Stay tuned...

12/2/08 The polski boys have survived another black friday, hope nobody in polski land got trampled in the rush for %30 off sales. We got our acoustic gig at thirsty ear this friday. I know y'all are in need of some boozing, so come on out. its 2 hours of unplugged polski!

11/11/08 Thanks to all the folks that made it out for our dia de los muertos show, you got to experience a lot of our new material. The weekend was chock full of fun. We celebrated some polski birthdays in style, with flip cup of course. (6 years since the house of blues show, hey-o!) We've got the Thirsty Ear gig on the 5th, promises to be a finger snappingly good time.

10/17/08 Unfortunately, we couldn't work the MIT show into our busy schedules. I know, lame. But to make up for it, we booked another All Asia show on 11/1 (day after halloween, but you can still sport your costume) and we're going to try a "toned down" show at Thirsty Ear on the MIT campus 12/5. Get your jazz snaps ready.

9/27/08 Sorry everybody, our scheduled show tonight has been rained out. Be looking for a reschedule date in October. Stay dry!

9/19/08 Huge thanks to Frank 'the tank' for setting us up with a birthday show for him last week at All Asia. It was short notice, but there was a good showing and fun was had by all. Thanks to Suppa Duppa for opening. We've got a show at MIT EC on the 27th with Tristan da Cunha, hope to see you all there!

8/6/08 Its been a while since any updates in polski land. Unfortunately, we're battling through a torn ACL. August will be our recovery/travel month, but look for some action in September. The new material is flowing, maybe pre-production will commence this winter...stay tuned

5/19/08 The All Asia show last week was a great time, thanks to everybody who made it out and helped celebrate afterwards. We'll be at TT's next week for another episode of the polski show. Come by and check out some of the fresh tracks we've been working on. [sniff sniff] what's that? I thought I smelled album #4...

5/6/08

Posterior: This is a rare form of shoulder dislocation that may be the result of a seizure, intense electrical shock, severe trauma from an accident, softball scrimmages or just being too awesome. The rear side of the should joint is much more resistant to dislocation than the front side. For posterior dislocations, the patient should seek immediate medical attention for surgery or manual relocation while under anesthesia.

oh, polski takes a hit to the shoulder. After a long visit to the ER, all joints have been relocated. But fear not, a full recovery is expected for the show on friday!


4/2/08 Hey everybody. Wow, where has the time gone? Already April of 08 and spring is finally on its way. Polski has some shows coming up in April at MIT and Harpers Ferry. Hope to see all you classy people there!

2/5/08 For those of you up for some weekend fun we have an All Asia show Saturday at 9:30pm along with the talented band The Three Nouns and Nick Cleveland. No cover, just a relaxing evening with power amplifiers. Hope to see you there.

12/24/07 Happy holidays from the polski crew! Thanks to everyone for coming out, we had a blast getting in some shows in oh-seven after that long hiatus. The scenario team projects business as usual in the oh-ocho, with lots of shows, antics, and hey maybe even another album, so stay tuned and have a great time ringing in the new year.

12/6/07 Good news comes to polski land. We added on to a show this friday night at AllAsia put on by CNC music production. To celebrate, we will be buying drinks for all our fans, you heard right, so cmon out and kick off the weekend.

12/3/07 Bad news, Polski Fiat will not be playing tonight at Abbey Lounge. The weather is a factor, as well as colds going around. Sorry for the late cancellation, but we'll make it up soon. Stay warm.

11/23/07 Happy Black Friday! Hope everybody avoided the crowds and ignored the sales. A lot has transpired since the last polski update: We've all got a little older (5 years since the House of Blues show!) and one of us is out like da gout. Polski has been working on some new material, however. Do I smell a fourth album? mmm...yes! Don't forget about the Abbey Lounge show 12/3, see you there...

10/24/07 Thanks to all who braved the elements to witness our first show of the oh seven. Gavin played a good set and was represent'n with the VPrint posse. We'll be playing in the Cambridge/Somerville area in the near future, check back soon.

10/17/07 The return of Polski is nigh - friday night at the All Asia we take the stage at 10. We'll be playing the new stuff, the old stuff; all good things.

6/04/07 Great News, team! Phylogeny (officially our 3rd album) has been approved by QA and released. You can familiarize yourself with these new policies at our regular intrapolskicorp site: cdbaby.com. Feel free to drop management an e-mail at contact@polskifiat.net, always interested in your feedback. Be ready for a polski conference in the future...

4/25/07 The album is finally finished! We started recording last march, finished in august, mixed til november and put the finishing touches on the artwork in March. Wow. Putting an album together takes some time when you're busy working the 9-5, building parabolas in africa and trying to become a swedish citizen. Despite it all, we squeeze an album out every other year. golf clap for the polski boys [clap*clap*clap]. You'll be able to purchase Phylogeny from cdbaby.com in a few weeks. also, we're getting master webman BCM to upgrade the site. hey, we'll be playing some shows before you can say "combinatorial logic"!

1/4/07 Dear friends - its the oh-seven, and as far as you know, the Polski boys have disappeared off the face of the planet. In fact, if you looked closely, we are still here on earth in some out of the way places where even google earth's satellites cannot see us. We are out and about living our lifes offline, making the stuff we write songs about. Even as the third album completes its gestation, new songs coalesce out of the ether. And, as the great general once said, we shall return.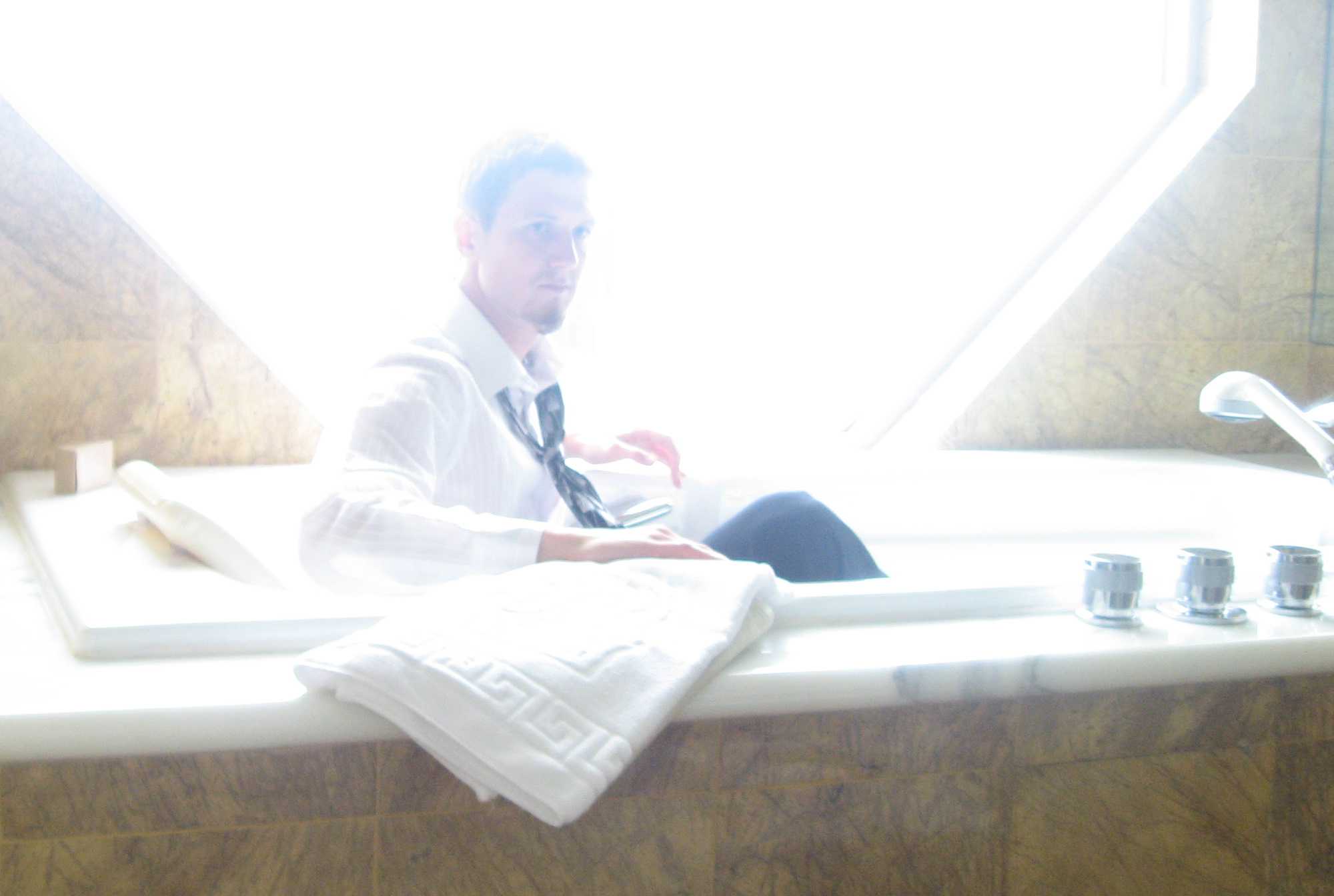 [2006] [2005] [2004] [2003]